How Do I Get My Start Button, Desktop, & Shutdown? - Windows 8 Tweak Tips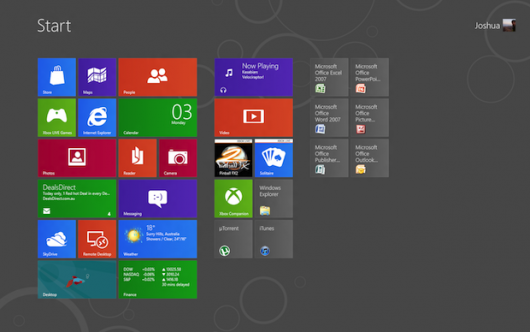 Click the Windows 8 Metro screenshot to enlarge.
Windows 8 is built around the metro interface you see pictured here. This mosaic of 'live tiles' can be customised and configured to your personal taste. The whole point of Metro is touch. By now most of us are familiar with using our finger to swipe through a series of photos on a Smartphone. That's when Windows 8's Metro excels; when you are using your finger. Tablets. Phones. Perfect.
That not so say you're lost with a mouse though. You can use it to click in the same way you would use your finger to tap.
But let's be honest. After the novelty wears off and you just want to get some work done, you're going to want to get back to the desktop you're used to and get on with it. Easy enough. Click the desktop tile.
Ahhh there it is. No, hang on! Looks the same but where's the start button? Don't look for it. It's gone. I don't know why. But with practice you can get by without it. (If you don't want to practice you can tweak it to get your start button back). Here are a few quick tips:
To navigate around your files and data you'll need to get used to using the Libraries shortcut on the taskbar. This has been introduced to us by Windows 7 but many people in my experience do not use it. Now's the time to start.
To get to system utilities and control panels, right click on the bottom left corner.
To toggle between Apps (including Desktop) you can move your pointer to the top left of the screen, or use alt+tab
Windows 8 with its default settings in place has an annoying habit of throwing you out of the normal desktop and back into the Metro system. You can use windows key + d to shortcut straight back to the desktop.
No one turns off their tablet, do they? The tablet goes to sleep after some inactivity and jumps back to life again when it is unlocked. Microsoft thinks all computers should be like that. Maybe they're right. But I reckon there's going to be plenty of us who still want to turn off our computer at the end of the day. Windows 8 doesn't make it easy. You need to move the pointer to the far right in Metro till the 'Charm bar' appears. Click Settings > Power > Shut Down.
The above are suggestions on how to use Windows 8 and its Metro interface. However there are a few things you can do to change the way it works and eliminate some of the more annoying Windows 8 behaviour.
Want a lesson on using your new Microsoft Windows 8? Why not ask Josh your Marrickville Computer Tech for a run-through. We're always just a phone call away.